MZPR
Changing the world, one book at a time...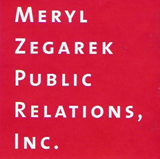 MERYL ZEGAREK PUBLIC RELATIONS, INC. was established in May 1999. We are a full service public relations, publicity and marketing company with a specialty in books & authors, publishers, organizations, special events, festivals and public performances.
We create comprehensive publicity campaigns:
Arranging reviews, interviews and feature stories in print publications, on national and local television and radio programs.
Author tours nationwide, including local media and book events/autographings.
Internet promotions, including book reviews, author blog-tours, features on zines and websites.
Building a multi platform digital promotion plan, including social media (Facebook, Twitter and other online communities), audio, viral videos, and search engine optimization.
Working with both authors and publishers to ensure widespread reviews and attention. Our unique specialty; small and independent publishers. We represent fiction and non-fiction titles.
Working with self-published authors to ensure media exposure, recognition, and book sales.
Media training for authors.
Hourly consulting for authors with recommendations for publicity and marketing, successful book proposals, and navigating the publishing world.
Building Twitter and Facebook pages, to maximize social media exposure.

MZPRPRODUCTIONS produces powerful book trailers, author videos, as well as business and event videos, for placement on websites, blogs and for personal use.
Our social media division will create a viral promotional plan, posting your video on numerous websites and creating a buzz that drives viewers to your video.